While 14 000+ runners were prepping to take on the world's biggest ultra-marathon on June 1st, Tarryn Povey was taking to bed to recover from a larger and longer challenge; Expedition Africa.
Expedition Africa is the biggest race on South Africa's adventure racing calendar. Forget 89km – This adventure race covers approximately 500km over six disciplines of mountain biking, trekking, kayaking, swimming, rope work and orienteering. Teams of four navigate from control point to control point in between each navigation leg, using a map and landmarks. They travel through day and night, resting only when they deem necessary.
After reading her lively account of her 152 hour adventure (consisting of only 15 hours of sleep!), we had to know more about Tarryn, Expedition Africa, adventure racing and women in the sport.
Tarryn got into adventure racing by 'chance' – "Funnily enough for me, this was never something I thought I would do, before 2010 I swore blind that I would never do anything as silly as ride the Argus or run more than 5km's unless it was in a hockey match". When her boyfriend bought her a mountain bike, as a means to keep her busy whilst she was in rural Natal for her physiotherapist community service, her mind-set slowly started to change.
"It was a great way to keep myself busy and Natal has some amazing riding." She transferred that cycling experience to small MTB and trail races when she returned to Cape Town in 2011 and it was only until they were 'no longer cutting it' that adventure racing became a serious consideration.
"My boyfriend has done adventure racing  since 2002 and soon talked me into being his second (following him around and feeding him when needs be – BORING) So I then thought I should give this running thing a try, 'if he can do it, so can I'. I still had no intention of taking it any further [until I got bored with what I was doing].  I said to myself 'let's see what all the fuss is about and did my first Adventure Race – a 120km race that took around 15 hours." Eeeek, there's a way to dive in.
Go to any road race in South Africa and there will be hoards of crowds but Adventure Racing is not very common. "It is growing" says Tarryn, "The first thing is to get people less intimidated by it."
With about four races a year in Gauteng (consisting of small to 48 hours) and the Western Cape Adventure series in that region, which consists of six smaller events (options of 50km's and 100km's), the big daddy of adventure racing is Expedition Africa which takes place once a year. "Generally we all know each other in the AR game because it is such a niche event, not very many people are stupid enough to do this to themselves  We supplement our races on the longer distance trail runs, MTB races and multisport stuff that fill the  calendars so quickly."
How does one begin to train for such a multidisciplinary event?  "I am the worst person to ask this. 

I do not have a training schedule or timetable; I generally tried to do something every day and something different every day. I wouldn't force myself to do something that I didn't want to because I am doing this for fun and when you are doing so much you have to enjoy it or there is no point.

"
She may perhaps then be the best person to ask for advice because sporting for the regular athlete should be about having fun – not a chore. 
"I generally try to add in a couple of races on the calendar that have a multisport aspect – doing the smaller AR's, and some of the off-road triathlon helps, otherwise just taking the bike or running shoes into the mountains and having some fun. I slightly neglected the paddle but got into it in the end . Basically I would do what I wanted at the time and try to vary things as much as I can – obviously I would aim to spend enough hours on my feet/saddle but you can always find scheduled races that will challenge you like that."
Going into Expedition Africa she didn't have a team, which is a requirement in order to partake. "it was a lot harder to train because I didn't have a team to train with previously I would do training weekends with the team where you do your own little adventure route and go through the night."
The race rules require teams to contain four people, one being of the opposite sex. "There is generally a lack of females in the sport." Tarryn used this to her benefit – when she knew she wanted to partake and had no team to do it with, she mailed the race organisers and they broadcast it 'to the world. "These Canadians were missing a girl and sent me a mail (and I mean an ESSAY) telling me all about them and what they were hoping for in this race. They sounded like great guys and also offered to sponsor my race entry so without further a due I was an honorary Canadian." With the race costing R30 000 per team it was a definite score.
One might feel intimidated being the only female on a team with three unknown men but not Tarryn, "There are of course other factors that you generally just have to get over, you will hear lots of farts and unsavoury noises and going to the loo is always a lot harder for a female, but 

in the end you are all a family and have gone through so much together the gender lines get a little blurred. You are team mates and that's that.

"
Tarryn doesn't downplay the difficulties of adventure racing for women but also realises where females excel. "I will readily say that the girl is normally the weakest in the team, and before all you feminists jump on my back – I weigh 60kgs and at some point was carrying a backpack of around 10kg's – 16% of my body weight, whereas for the average guy on my team – weighing in around 90kg's – they are only carrying around 10%. It doesn't sound like much, but over 90km's… It is. The same applies to carrying bicycles and shear power most of the time. What I can say for my gender is we tend to start out slow and finish strong. I was definitely feeling the best of the bunch at the end (us women have a survival instinct that lets us go the distance!)."
Survival instincts become important when you're dealing with sleep deprivation, which becomes a real issue. "Sleep is a huge factor, and when you are deprived of sleep you go a bit crazy. I had conversations with imaginary people, thought I was seeing paddlers on top of the mountains and there were some dancing monkeys and walls closing in on me etc etc. But that's all part of the game. Some teams will have a great night's sleep and come flying past you in the early hours of the morning when you are trudging along like a zombie but then sometimes it's better to just keep trudging when stopping for a nap makes you more sore and tired than before. These races are all about managing what you and the team can handle – for example, falling of your bicycle because you have fallen asleep – not manageable. We employ a variety of techniques to push through… singing, caffeine pills, an unhealthy amount of red bull and sugar, a swift slap to your own face… Whatever it takes really".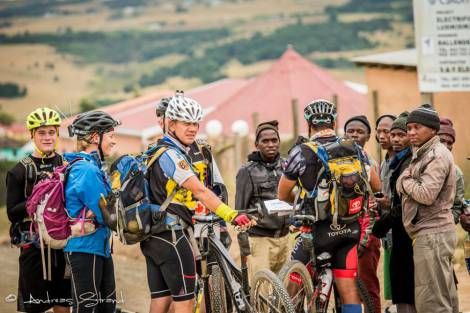 Adventure racing is not for faint hearted and requires both nutritional and gear planning (and we're not talking filling up a race belt with gus!).
 "We have compulsory equipment which is mainly for safety, like a sleeping bag, warm clothes in a dry bag, a knife, compass, First aid kit etc. You carry all the essentials you would need if you got into trouble and then you also have to carry any essentials for that leg. This would be climbing gear if there is an abseil or your helmet if you will be doing any rocky climbing."
This doesn't even take into account the food you need for each leg of the trip.

 "Each leg is one discipline, so if you are hiking for 90km's you have to have enough food and water for 90km's. The race organisers will transport the boats, bikes and a "re-supply" box that you have packed before the race with all of your food, clothes, batteries etc. and you restock as needed in between disciplines. Sometimes you are carrying a lot and sometimes little, it all depends on that specific leg of the race."
Nutrition plays an extreme role in adventure racing – it really is an element that could make you or break you. "

Nutrition is HUGE, if you hit a wall there is very little you can do to claw your way back – on a one day race you can trudge through it, when you have four days left you cannot hit that wall

.

 The team is constantly checking on one another about food and if everyone else is eating and drinking. I

t is easily the most important part in the race (besides maybe not getting lost).

"
Much like her training Tarryn chooses to keep her nutrition simple. "I eat what I want  It's as simple as that. When you are overtired you don't get hungry, so I make sure that I have a variety of anything and everything."
Her list included sour worms, nuts, biltong, chocolates, 2 minutes noodles (when hot water was available), tuna wraps, peanut butter wraps, chips and fresh fruit. She also made use of recommended sports nutrition products. "I carried protein powders and had a high carb drink mix with me most of the time, but I found that in this race and the heat I used the electrolytes more. I stay away from Gu and most sports accelerants, simply because they aren't made for such long endurance races because you crave real food. I remember my team mate proclaiming that he would marry the next person to give him an orange. 

Your body craves real food; you learn to listen to it

."
Listening to your body is imperative and unfortunately on race like these you don't always like what it starts telling you. "There's apparently no way to avoid stomach issues  In this race we had water purification tablets and used them religiously yet almost every single team was struck by some sort of gastric bug. In last year's race it was not a problem. It is really dependant on the area and a multitude of factors."
Another factor that can affect your race is injuries and this year Tarryn found herself on the receiving end of one when she fell at the on leg five. "My knee twisted in a way which is unnatural for a knee and I heard a very distinctive "pop" – I was shattered – there was much moaning and screaming… Some serious pain was present which got worse with knee stability tests but as long as it was dead straight I could bear weight. We had no choice – no one was fetching me from this canyon – I was walking out, or crawling out – I opted for walking as it seemed like less effort and water…"
Luckily Tarryn was able to push through with the help of a medic strapping it at their next control point but what happens when you get injured on a race like this, to the point that you can't continue? "I would have had to struggle to the next transition, be it carried by my team or crawled and then the organisers would have taken me to the finish when they eventually went there, this could take a day or two (unless you need specific medical attention of course). My team would have the opportunity to continue as an unofficial team and my/ and technically their race would be over."
The race organisers give teams 170 hours (7 days) to complete all legs but the winners finish in an estimated 90 hours. That's half the time! What does it take to race at that level and how do they do it? Is it extreme athletic ability, good strategy, ability to operate on little sleep?
"Those guys are machines! Pure and simple. 
The biggest thing here is that they are paid athletes. They train and race and recover ad infinitum. Unlike us poor Joe shmoes who fit training in around work, race less often and take our sweet time to recover at our office desks

.
 They will always have the edge on us civilians and of course, they hone their skills constantly, racing all over the world, practising navigation and sometimes learning how to function on little to no sleep.

 
I will not take it away from them, they are amazing athletes and strategy is a huge part in the game, choosing a route dependant on the tides and/or time of day, choosing if sleep is a good option to refresh or to push though without it… It's all part of the strategy, and these guys have it waxed!
"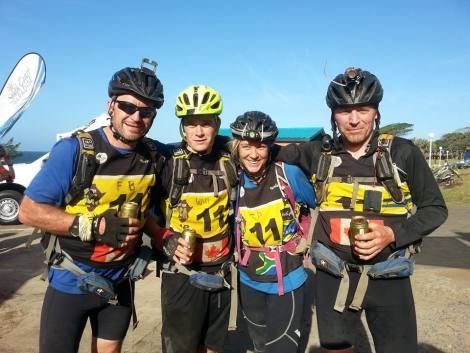 Getting to the finish line of any extreme race is an inexplicable feeling and we can only imagine what the end of this one feels like. Mixed with elation, the exhaustion must hit hard. "152 hours after race started we were back and ready to sleep, eat and not move for an extended period of time!"
Adventure Racing and Expedition Africa sound like one hell of an adventure that will test your limits. Despite us admitting that after our chat with Tarryn, adventure racing may be a bit too scary for us, for all the rest of you who think this might be your cup of tea, Tarryn had some tips on how to get started!
Start small, don't enter a huge race and hate every second of it!

There are a lot of orienteering races (small micro navigation) – check those out and see if you like getting lost!

Have a look at the companies in your area – http://www.kineticgear.co.za in Gauteng or wcad.co.za in Cape Town. Go give their small races a test run. It's a great alternative to the same ol' trail runs where you follow a marked route. There are always a few surprises thrown in.

All you need is a bike, some trail shoes and a compass and you are ready to go!
Feige Lewin
Feige is the co-founder of Nutreats. She likes to code things, design things, and all things beauty.