With less than three months to go before the 2014 Unogwaja challenge kicks off, the ducks are lining up in perfect rows. The organisation is in full swing, 1/5 of the R1 million
charity target
has been raised, The newly minted
red love train
was launched and now the Unogwaja film crew has been secured.
The Unogwaja challenge is extremely pleased to announce that 

Pete & Zayne

,

who captured the 2013 challenge, will be returning for a second year, ready to put their mark on the story telling of this epic journey once again.
"Our team is NOW complete!… Pete and Zayne, [are] our dream film team! I AM REALLY PUMPED TO HAVE [them] BOTH JOIN US! MAGIC IS IN THE MAKING!" exclaimed Unogwaja's founder John McInroy excitedly.
Zayne filmed the 2013 challenge after being approached by Andrew king. Andrew photographed the 2012 challenge, produced the 2013 documentary and participated in 2013 as an Unogwaja. "Andrew and  
I have worked together for a long time, and as everyone knows he only does extraordinary things, whether behind or in front of the camera, so when he calls to ask if you're keen to shoot something, you say yes!" Pete added, "It was a great way to document a cool and inspiring story and to test my on the road editing."
And test them, he did. Unogwaja is no piece of cake for the cycling/running crew but perhaps even less of a smooth ride for the film crew. For all of us Unogwaja groupies out there, during unogwaja we anxiously await the daily roundup Youtube clips, but very few of us realise what a demand it places on them to produce so quickly.
Pete comically describes the typical day for them as "wake up, have breakfast, make Zayne film some stuff, get the footage on to the computer, make Zayne film some more stuff – repeat this process 30 times a day and then edit and put the story together ASAP so the world can see." Zayne likes to detail…
"The typical Unogwaja day starts very early, 3:30/4am. It's a mad scramble to get everything packed and into the vehicles whilst still getting all the important pieces of that mornings story without holding up The Stoff. It slows down a bit once we're on the road, but 10 hours on the road everyday takes it out of you, especially when your stopping every 5 minutes and running up a mountain to get a shot. In the evenings there are interviews to be shot and a few other cut aways and then its full gas for Pete to get the highlights cut and uploaded. So ya it's no holiday, but at the same time very rewarding."
When we chatted to them about their return, we were most curious about what made them want to shoot it again given the demands it places on them. Both Zayne and Pete needed no time to think about that.
"The Unogwaja is a journey, there is nothing at all competitive about it. 

Last year when I got involved I was told that this would be a journey, and I thought ya, ya. You know that's such a cliché these days, "life's a journey, enjoy the ride" kinda thing. But after the first few days last year, I realised that this is about so much more than ride across the country.

 It was a giant physical achievement but at the same time so much more than just that. A group of complete strangers came together and formed such a close bond whilst experiencing our amazing country in a very unique way. To be able to document such a visible change in people over such a short period is amazing, and as a filmmaker it's stories like this that you want to tell. This year it's the same route and same challenge per say, but with new personalities and characters and I'm excited to capture the epic journey again as it unfolds." Said Zayne.
Pete pointed out that the Unogwaja is "a great way to see the county rolling along at about 30km/hr" and the perfectionist in him wants to know only experience it again and to tell this story again, but he wants to do it "even better than the last time."
This year it was a lot easier for McInroy and the organisational team behind the challenge to convince them to do it again. With memories of the challenge seared to their brains, it almost wasn't even a choice.
Pete loved the magical nature moments that Unogwaja gifted them with every day. "all the sunsets and sunrises [were my favourite moments]".
Zayne remembers so many special moments, but he 

"really enjoyed showing the physical and mental battles and triumphs"

. He recalls AJ having to get into the vehicle towards the end of day two last year, due to severe cramps. "I thought, sheez this guy has got no chance of getting to Maritzburg, let alone finishing the Comrades on the 11th day. But he did."
He also recalls Savey suffering so severely with his ITB that Tiago and Rita had to pace him painfully and slowly for the last 30km of the Comrades Marathon.
"Being there to witness these people triumph in the face of adversity was special. There were also the two girls who drove out from PE to Willowmore to come and see the team, because of how much the 2012 Unogwaja had changed their lives, after seeing the daily videos. The Unogwaja moves people, and teaches them to go with their heart. I love that this message comes across so clearly!"
How does the message come across so clearly? There are so many tough moments during Unogwaja, yet when you watch the footage it all seems to fade into the background and the story and spirit of Unogwaja overpowers it to the point that you can't watch it and not want to be involved or feel changed. Is this all in the editing or is Unogwaja truly that special?
Zayne thinks the Unogwaja is that special. 

"It has a very profound effect on everyone involved and I'm glad that translates in the film and allows the viewer to feel connected. But a lot of credit must go to Pete, he's a ninja editor and can tell a story in a very personal and captivating way. He basically makes all of us look good."
Pete agreed (although forgot to take direct credit),
"Its mostly in the editing and how I choose to tell the story, if I wanted, I could this a super scary story that would make people not want to watch…but why would I want to do that?  The Unogwaja Challenge is a story that must be told honestly and from the heart."
Unogwaja is a journey of the heart. Not only does is raise a lot of money for charity and not only do the the competitors do what they thought unimaginable, as Pete pointed out but the positive effect it has on everyone who is exposed to it, whether it be the team, the support crew, the people encountered on the road and in the towns or even the online viewers, is truly what makes it phenomenal. 

"It's a journey of determination and perseverance that everyone is drawn to"

 explained Zayne.
Do the Unowgaja Film Crew plan their shots? "All the shots are unplanned, if they were planned it would be a movie, this isn't a movie, this is real life." said Pete.
If it were a movie they'd probably be taking along more gear, but for anyone who wants to stay on Stoff's good side (this should be everyone) the key rule is 'less is more'. Pete learned this last year and is only packing essentials

 "Toothbrush, toothpaste, laptop & harddrive…thats all, otherwise 

The Stoff will get angry." Zayne explained that there are some things you can do without and other things that are essential. "In terms of camera gear there's nothing too fancy, two camera bodies a variety of lenses, tripods and maybe a slider for some nice creative tracking shots."
They guys on the Unogwaja Film Crew both feel that the story of Unogwaja is about the people and their experiences, 

"there's no need to over produce it [because that is] what makes it so interesting."
The challenge is no doubt inspiring and life changing to those that experience it and those that watch it. It's not just about how the athletes break past their physical limits but how all those involved break past their barriers. Pete broke through what he believed he was capable of,"Last year made me understand my limits in creating a story and editing itand how easily I could just break the limits by simply breathing calmly, putting my head down and knowing there is always a beer at the end of it all."
Zayne internalised the message behind the challenge, "The title of last year's film is "Go with you heart" That's what Phil Masterton Smith did, that's what John has done and that's what the Unogwaja's learnt to do. It's such a powerful message and I now try to apply this mantra to my life"
In 86 days this epic story telling team will unite once again to tell new stories and help make the memories of Unogwaja 2014 last forever.
Zayne is most looking forward to "being a part of something so big, and I don't mean as in physical size but as in the impact it has on people. The Unogwaja is so far reaching and its message is so positive, I'm just really stoked to be able to play a small part in that."
And what's he dreading? "The early mornings. I would hate to get Stoffed, I managed to avoid it last year, so let's hope I can keep it that way. Haha, Ya he's not a happy camper when things are running late, so you don't want to drag your heels in the morning. Gotta set 3 alarms." (Take note team!)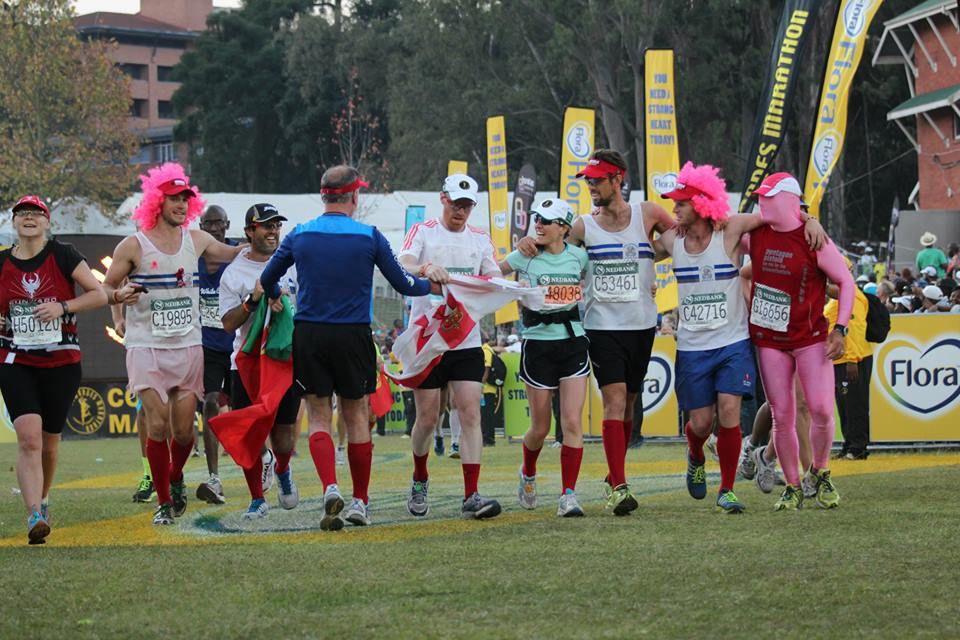 Pete said, "I'm looking forward to seeing everyone finish at the end of the Comrades and  I'm dreading seeing everyone finish the Comrades cause it's super emo and I'll probably cry a bit. We're allowed on the finish line to welcome the team and that's where all the TV cameras are, must remember to keep Oakleys ON!  Oh, and I'm not looking forward to editing in a car without a mouse."
And in 98 days, when the sun has set on the 2014 challenge, what will be left is the memories and the stories, the Unogwaja Film Crew Zayne and Pete have captured. Their footage will live on forever, long after Unogwaja 2014, Unogwaja 2024 or if ever Unogwaja ceases to exist. If there's only one message their work could tell, Zayne says, 

"If my work can inspire someone to go out and achieve their goals then that would be pretty cool.

"
And pete? 

"If only the video form of the story remains…um…Zayne and I made it, so, if you need a super cool camera guy and story editor think Zayne & Pete :)"
Indeed, the film crew has been announced, so think Zayne & Pete!
Feige Lewin
Feige is the co-founder of Nutreats. She likes to code things, design things, and all things beauty.