The Comrades Marathon Association (CMA) invites you to be a part of history and spread the love on Comrades Race Day – 1 June 2014 by joining the Red Love Train in conjunction with the Unogwaja Challenge as part of its Amabeadibeadi Race4Charity initiative.
John McInroy, leader of the red socks and Bronwyn Freeman, CMA charities co-ordinator spoke to us about how a bunch of crazy cyclists became a part of the Comrades marathon. These people are changing the face of charity fundraising, and now you can be a part of it all.
The Red Love Train – The Train of Love
The Unogwaja Challenge, now in its 4th year became an official part of the Comrades marathon after being introduced by Noelene of the Pink Drive.
The strong charity link and the fact that Phil Masterson-Smith is such a special part of the Comrades marathon drew the two together and the relationship has blossomed. As Bronwyn put it "We love that they are all so passionate, and are a real motivation to others out there. They embody the true spirit of Comrades"
The Red Love Train was born last year after friend and supporter of the Unogwaja Challenge, Chris Geils referred to the red socked clan making their way across South Africa as the "Red Love Train".
As John loves to say "it was written". The name he says seemed right "We weren't impressing anyone with our cycling or running abilities. Team Unogwaja and the entire journey is about something so much more. 

We want to leave a place or a person better off than when we arrived

. With hope. With belief. Or at least a smile!"
The love that this group spread was evident on Comrades day when a large part of the group stuck together and exuded love and positivity on a day that had the largest dropout rates in history. They turned a long and tough 12 hour journey into a carnival of fun. Their red socks and passion making up the Red Love Train.
Their spirit was felt by those around them, two of whom John fondly remembers and would like to see again this year as part of the Red Love Train.
Gerhard van Staden and Glen Connell, two random and unconnected runners met the group along the way and joined them.  It was small things like that which have inspired John and his team to turn the Red Love Train into an official part of the Comrades Marathon experience.
He imagines "

100s of people running together in their red socks and experiencing Comrades as a team, as part of something bigger than ourselves and just having fun!

 The Red Love Train represents a way for all people to get involved and enjoy a truly unique Comrades experience as well as be part of a major fund-raising mission where us as a small group of people could do with all the help we could get".
Starting the red love train was a "no brainer" and he believes that together they can raise over a million rand for charities this year.
 

Becoming Part of the Red Love Train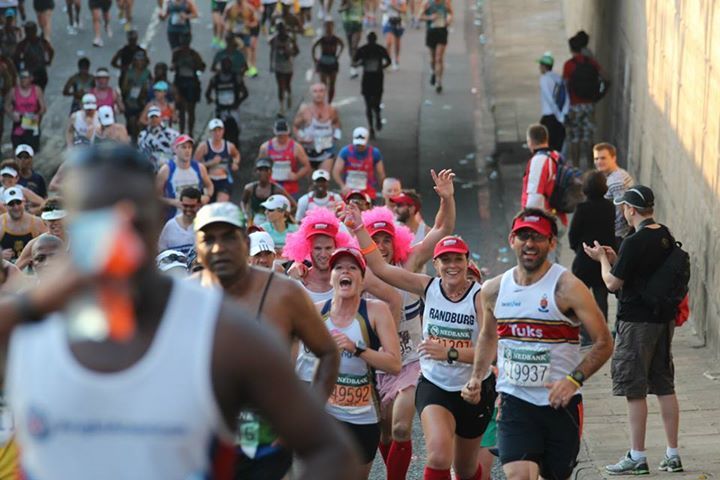 The Red Love Train experience is set to start the day before Comrades at 

The Garden Court Marine Parade

 where runners will be able to stay, eat and travel with the Unogwaja Team to the start at a preferential rate exclusive to Red Love Train members.
The CMA is also opening up a special Tsogo Sun Red Love Train registration area alongside the elite athletes at the Bonitas Comrades Expo to further support this initiative.
On Comrades day, The Red Love Train team will start together in Batch CC an aim to finish altogether in about 11 hours and 30 minutes in an emotional and historic ending!
To hop on the red love train register here and commit to raising a minimum of R5000 for one of the six Comrades Marathon Amabeadibeadi Charites.
Now in it's 13th year Amabeadibeadi is growing from strength to strength as runners in South Africa are starting to buy into the culture of running for a cause.
They represent a wide range of needs from health, sport and environment to those supporting children made vulnerable by HIV, the aged and feeding schemes.
Sponsorship plays a role in their selection with sponsors, like Nedbank and The Sports Trust and Bonitas and Wildlands getting involved and boosting the charities fundraising.
The most important factor, Bronwyn tells us is accountability, "The Charity selected must be able to leverage the opportunity given to them by using their platform with the Comrades. Go out, create awareness and raise more money for their cause. 

It's not a handout – we give them the platform and they do the work

".
Changing the face of Charity Fundraising
The Unogwaja challenge has already changed the charity aspect of Comrades with their enthusiasm and drive. Bronywn says that they have "

made others sit up and take notice of what can be achieved 

if you set your mind to it. Others want to be part of something special and most importantly realize how rewarding it is to give back".
The Red Love Train is set to change it even more by boosting the Comrades Race4Charity drive and motivate more runners to run for charity and start in the CC Batch.
John, (getting goose bumps thinking about it) hopes and believes that the Red Love Train can have a material impact in the history of Comrades. "2014 is the first official year of the Red Love Train and I hope many years from now people who joined this year will be saying I was part of the first ever Red Love Train and look where it is now! 

The fundraising capabilities are massive. If we get 100 runners this year that equates to a minimum of R500,000 generated by the Red Love Train

. Why not have 500 runners? That's R2,5million! But more than that, 

imagine the vibe, the energy, the people it will bring together and inspire!

"
He forsees the Red Love Train at  events right the way across the country, like the 2 Oceans Marathon, the Cape Argus, you name it(!) and across the world. "Just as the red socks are travelling far and wide, so can the Red Love Train. People celebrating life, health, taking part, helping each other. 

The Red Love Train represents the spirit of Ubuntu that our Madiba has inspired us all to live

"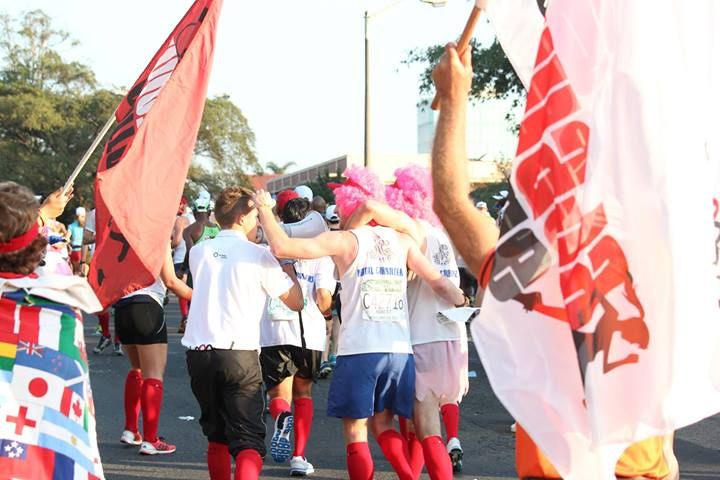 Still Unsure About Joining the Red Love Train
Apart from being able to experience an incredible vibe and love starting before you hit Pietermaritzburg and long after you reach Durban; Being a Red Love Train Member has many benefits.
The elite registration courtesy of the CMA, an unbelievable rate for accommodation at Tsogo Sun and transport to the start and starting with people who will inspire you in batch CC are not the end.
Each member will get TWO pairs of ShoOops Red socks, discounts at New Balance outlets country wide and Hirsch's in store vouchers. And then there's the small being part of history thing 😉
Yes, it will be a lot of fun, but the Red Love train will be reaching the finish within the 12 hour cut off time. 
Leading the way and ensuring the pace is stable, will be Nato Amaral (from Brazil) and Tiago Dionisio (form Portugal) who have 30 Comrades  between them and countless of marathons and ultramarathons in their legs.
Just ask David Williamson, 2013 Unogwaja's Irishman and token ginger who after struggling with the run was coached and helped by Tiago and Rita Manso (another Unogwaja) who "built a wall of energy around David who just hung in there and eventually made it".
And if all that running experience doesn't ease your mind, coming along for the ride will be Big deal Joff Gouveris, a sponsored runner who John tells us is "Big in Pretoria and doing his fifth Comrades"
John believes that we all have what we need inside to make it and being part of this will show that finishing is not everything, it is about taking part and giving ones best for yourself and for others. And if we do this together, nothing else matters
You're in or you're out says John and we are definitely IN!!
To register click here* and if you can't run, join the red love train by helping them reach their 1 million rand goal by donating here!
*(Please note Terms and Conditions apply)
Zissy Lewin
Zissy is the co-founder of Nutreats. She likes to make things, do things and wear things.